Lecterns are an indispensable attribute when conducting lectures, reports, presentations and other events with public speaking. The stands from this model will not only ensure the convenience of the speakers, but will also add sophistication to the entire event, increasing its status in the eyes of the audience.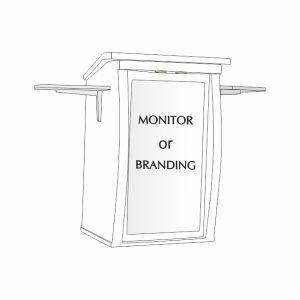 Lectern with plasma monitor inserted in front panel. Monitor can display event logo, speakers name, or any other event related information. The process is controlled through technical desk. Lectern front panel can also be used without plasma monitor. In this case it is branded with flex material. Front panel has recessed spot lights, which are used when branding is applied, in order to illuminate the branding surface. Lectern has folding wings to put water bottles or presentation clickers.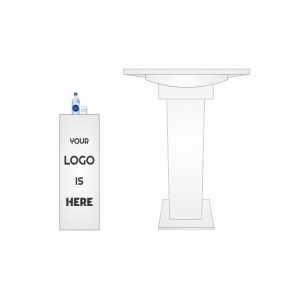 Water table for your lectern is convenient for speakers to quickly access water bottle if needed. It is also an option to apply branding on front side of the table, since it is located in front of audience and cameras.