The beautiful backdrop is a key element of your event. Regardless of the subject, the effect will be incredible if the message is delivered to your audience in style.
#1 Design
3D visualization and graphic elements of conference backdrop needs to be designed. Your event management company needs to design your event stage in advance. Provide them with your corporate identity or brand book. If you have posters or graphic elements specially designed for the event, share it. If not, let your event management company create a concept design for your event. Then choose the appropriate design among proposed options, which suits most to the theme of your event.

# 2 Production process
Always let professional event management team fabricate the backdrop for you. You have to make sure your selected event production company knows what they are doing. Do the past performance check. I recommend you meet with your selected event partner company and see their previous relevant works, as well as their facilities to make sure they have enough production capacity to handle your event.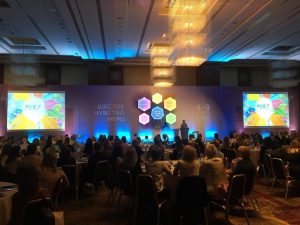 # 3 Crown jewel
Always add a key element to your backdrop as a crown jewel. For example, in this project the event theme was about 6 senses. I manufactured six light boxes in event thematic colors and placed them on event backdrop. These 6 elements were creating a Wow effect while audience was entering the event ballroom and were being captivated by event backdrop and stage as a whole concept.